Business transformations that leverage digital technologies may be one of the top enterprise trends being discussed today, however, "the forces of digital have yet to become fully mainstream," according to a recent report from McKinsey & Company. On average, the report reveals, industries are less than 40% digitalized.
According to McKinsey, the digital transformation is allowing companies to quickly virtualize and automate products, services, as well as supply chains to include new disruptive business models and redesigned processes.
How heavy digital investment separates leaders from laggards
The gulf between the digital leaders, followers and laggards is wide and growing, and this comes as no surprise! Namely, running a digital transformation requires not only digitizing customer touchpoints and entire business processes, but also creating new digital revenue streams. In their pursuit of digital transformation, many companies are stuck in one of these stages of their journey.
Winners tend to respond to digitization by changing their corporate strategies significantly.
Nevertheless, it is pretty evident that heavy digital investment is a differentiator. The consultancy says that 49% percent of leading companies are investing in digital more than their counterparts do, compared with only 5 percent of the laggards, 90 percent of which invest less than their counterparts.
Aligning your digital strategy with your corporate strategy
The biggest roadblock in the way of digital journey is the lack of alignment between IT and the business. Digital leaders are more than twice as likely to align their digital and corporate strategies than other companies, McKinsey found. Furthermore, "winners tend to respond to digitization by changing their corporate strategies significantly," said McKinsey researchers, adding that "fast-followers with operational excellence and superior organizational health won't be far behind".
Which industries are the most digital
Some industries that report digitalization success over 50% penetration are healthcare systems and services (51%), high tech (54%), and retail (55%). Media and entertainment lead with 62%.
If you are in telecom (44%), professional services (42%), financial services (39%), automotive (32%), or consumer packaged goods (31%), there's more work to be done. The McKinsey article confirms that by reducing economic friction, digitalization fosters competition that puts pressures on revenue and profit growth.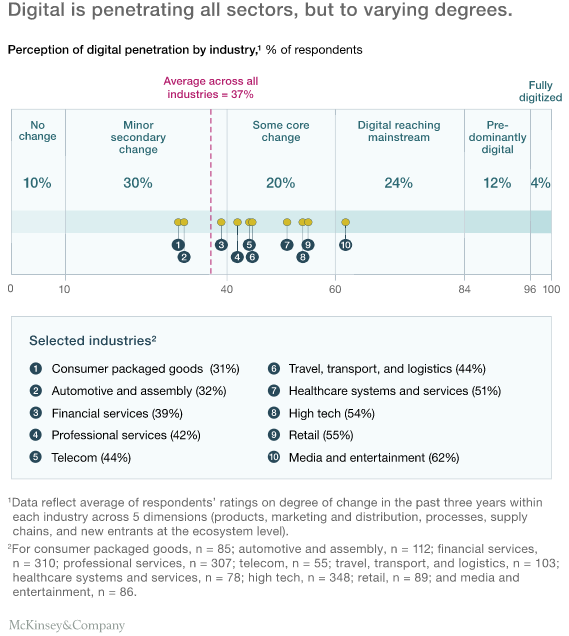 Where to invest
McKinsey also found that levels of digital transformation vary by business operations. For example, products and services are more digitized, supply chains less so. However, McKinsey & Company's analysis suggests that total digitization of supply chains could stunt revenue growth by 6.8 percent.
Airbnb and Uber were but a few of of the headlining examples that demonstrated the power of tapping previously inaccessible sources of supply (sharing rides or rooms, respectively) and bringing them to market.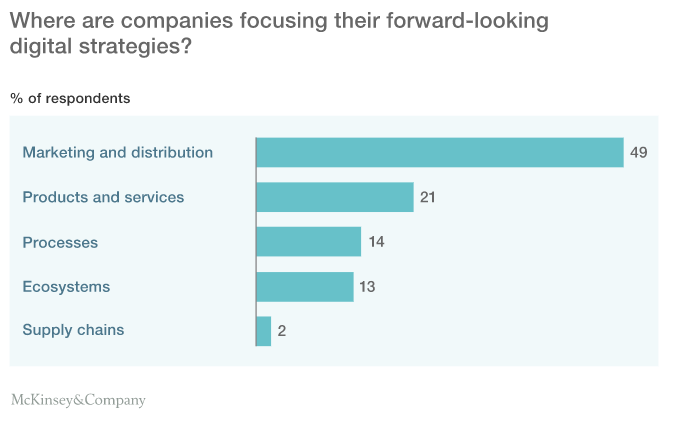 Why some digital strategies work better than others
A clear digital strategy is supported by leaders who possess a cutting-edge agility to excel on all the operational and organizational aspects of digital maturity.
"A strong organizational culture… enhances the ability to perceive digital threats and opportunities, bolsters the scope of actions companies can take in response to digitization, and supports the coordinated execution of those actions across functions, departments, and business units," concludes McKinsey.