The Agrifood testbed aims to stimulate the development of highly-specialized applications of smarter processes and products in the agricultural domain.  Our immediate focus is to allow farmers, agronomists, and other industry representatives to access the critical parameters necessary to achieve effective, efficient, and sustainable agricultural production – all with ease and simplicity.
The service integrates with the Synelixis SynField system and BioSense Plant-O-Meter solution to offer the optimum level of flexibility for prospective developers and enhanced experience for technology adopters and end-users alike.
Smart Irrigation Experiment
Water-smart farming for improved yields
What are the advantages of smart, automated irrigation systems? How to increase yields, whilst making farming more environmentally friendly, sustainable business? Taking place in Monemvasia, Greece, this experiment explores the ability to maximize crop yield potential through the optimal use of water used for irrigation.
A pepper field will be split into two irrigation zones, based on water usage category, wind and sun exposure, etc. A network of pipes will then be installed, and connected through SynField HN. To ensure that just the right amount of irrigation is applied, SynField PN will both manually and automatically control irrigation zones. The experiment will evaluate the savings in water consumed per zone, with the overall goal of determining the critical parameters that ultimately lead to differences in crop volume.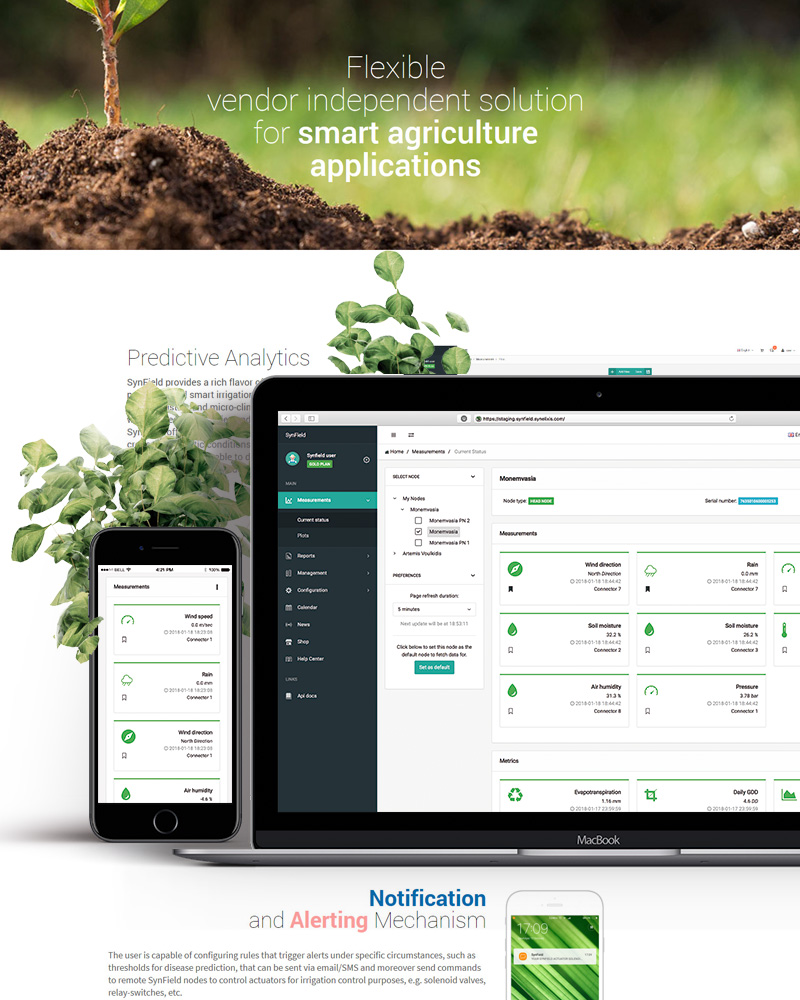 Plant-o-Meter as a handheld device experiment
Balanced use of fertilizers and agrotechnical measures
Precision farming technology is changing rapidly, enabling farmers to understand their crops at micro-scale. The key questions, however, is how to make informed, crop-specific decisions year-round. The core idea behind this experiment is to offer certainty in decision making, increase both productivity and quality, as well as reduce risk.
In this experiment, various vegetation indices will be continuously monitored for selected crops such as wheat, rye, barley, maize. Plant-O-Meter will be used as a handheld device, with its measurement data being integrated with the data supplied by the nearest SynField HN or SynField PN. The collected data is then transmitted in real time to the SynField cloud for further analytics, transforming raw data into crop specific plant health status. In case of significant variance in nutrients levels, meaningful alerts will be provided to the user. The outcome is an intuitive crop health indicator, that can be used to apply optimal agrotechnical measures, maintaining the plant status in the optimal condition with balanced use of resources.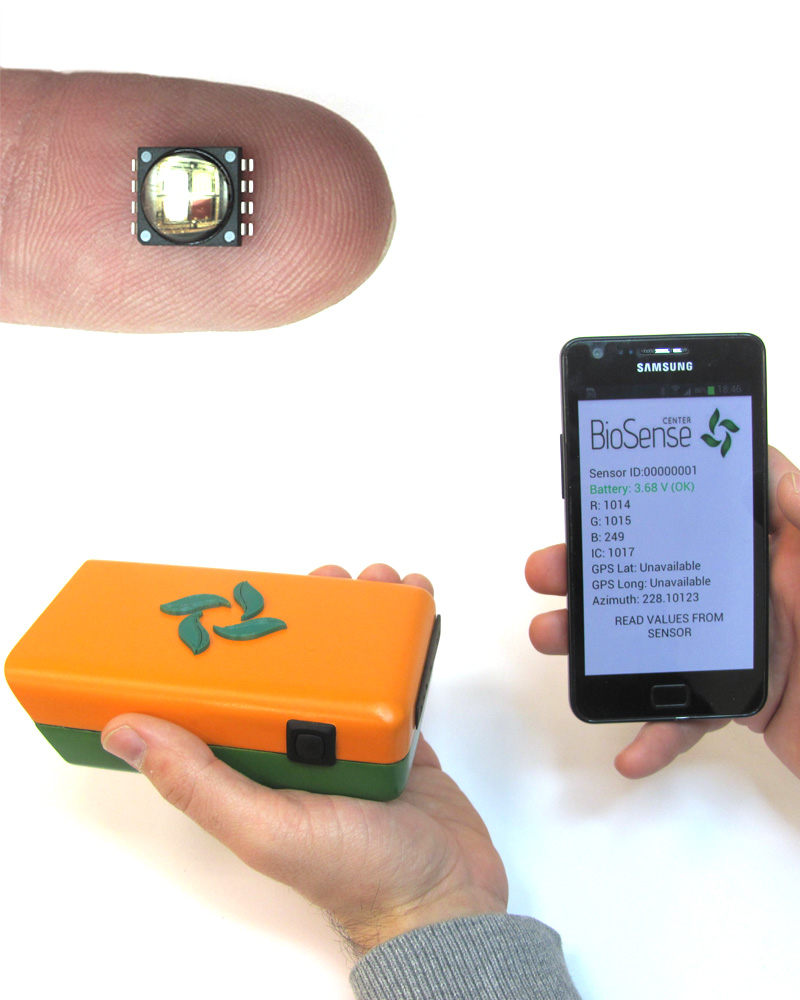 Integrated Robotic Platform experiment
Automated multilayer data collection for more efficient, predictable farming
Continuous innovation in farming is clearly data-hungry – the more information, the more opportunities for context- and location-based decision support. This experiment aims to pave the way to multilayer data collection from fields, on the go and on demand.
For this experiment, Plant-O-Meter is mounted onto Clearpath's all-terrain robotic platform Husky A200. The autonomous nature of this vehicle would enable the Plant-O-Meter device to generate a series of high-resolution maps on-the-fly with the vegetation indices correlating to the end-of-season yield. Several measurements will be taken throughout the growing season, regardless of weather conditions; this creates a unique advantage over satellite imaging. Each measurement is sent to the appropriate SynField HN and stored on the SynField cloud. The concept can be transferred to a broad range of contexts, such as center-pivot irrigation systems. The robotic platform itself offers the possibility of integrating continuously new layers of information, such as landscape maps, using RTK GPS, and data from sensors that can be mounted on it, allowing for more efficient, predictable farming.
You have a promising idea for microelectronics in smart agrifood?
Diatomic could help you speed up your innovation process and offer up to €100k funding, mentoring and tech support.