Smart Anything Everywhere
Smart Anything Everywhere (SAE) is an initiative of the European Commission that looks to accelerate the design, development and uptake of advanced digital technologies by European industry, in particular SMEs and mid-caps. The core objective is to deliver products and services that include highly innovative electronic components and systems, and especially in low-tech sectors, which are ripe for investment and innovation.
The SAE is building collaborative ecosystems in which industrial actors across the complete value chain engage in a large number of small application experiments facilitated by Europe's leading competence centers.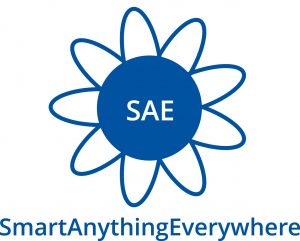 Enhancing the digital transformation of the European industry through Digital Innovation Hubs
At the core of the initiative are networks of competence centers, usually research technology organizations (RTOs) or technology transfer-oriented university institutes, ready to support small-to-medium businesses on a wide variety of technical and application issues.
SME's who are great sources of innovation, but often struggle obtaining resources, and middle size companies can experiment with new technologies, try them out in their processes, and work together with the suppliers of the technology to adapt it to their specific needs.
Application experiments will foster competitiveness of SMEs/midcaps, and will help establish fully functional ecosystems of DIHs that can also provide services beyond technical advice such as business consulting and training.
SAE Cluster Projects: Nurturing Ecosystems of Co-Created Value
The SAE initiative is bringing together innovative projects in different fields of technology with the overall aim to actively promote and support the digital change in the European economy.
Federated CPS Digital Innovation Hubs for the Smart Anything Everywhere Initiative
Technology Transfer via Multinational Application Experiments
Digital Innovation Hubs boosting European Microelectronics Industry
SMART Emerging Electronics Servicing DIH
Catalysing Digitisation throughout Europe
Connective Floors product Smart Floor, integrated into floorings of Healthcare centers, can measure walking parameters like e.g. walking speed, step length, step frequency, and step regularity. 
I am Philippe Cousin, CEO, French SME Easy Global Market (EGM, www.eglobalmark.com) I created in 2010. Since then we have been involved in 24 FP/H2020 projects and we focused recently the company as an IoT engineering company where we do innovative objects from hardware to cloud/AI. We also focused our action to some verticals such as water and aquaculture
Explore the possibilities of the one-stop shop
Get help with your microelectronics solutions – from experimentation and prototyping to full-scale commercial deployment – with DIATOMIC one-stop shop