The event is taking place in the context of the preparation for the new Multi-Annual Financial Framework, featuring the proposed Digital Europe Programme highly on the agenda.
During the event startups and SMEs will have the opportunity to learn about the supporting structures and initiatives that can contribute to boosting their competitiveness and internationalisation through experimenting, networking, funding and inspiration.
Showcasing inspiring experiments of European SMEs, the event will also host an exhibition supported by regional DIHs and European Initiatives.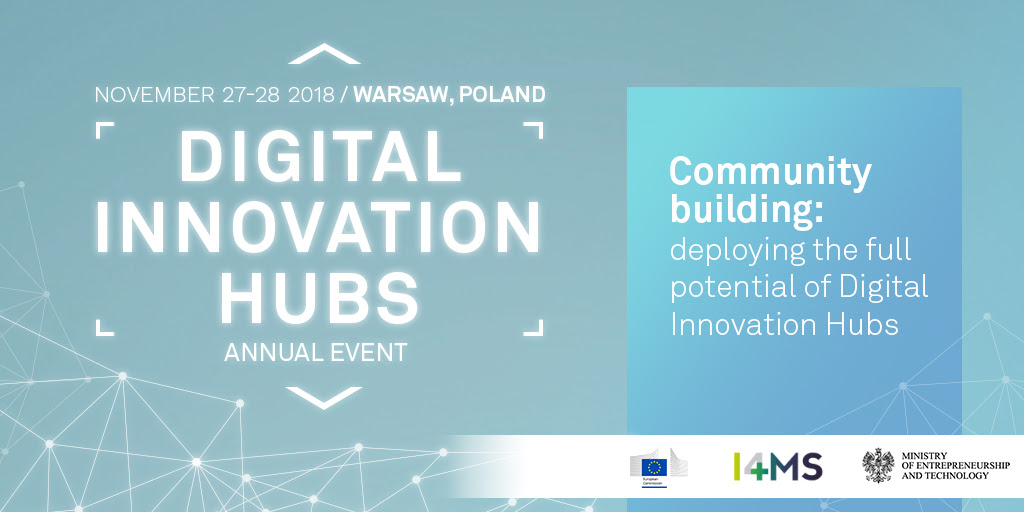 We are looking for 15 companies that have been already sponsored by an European Initiative (I4MS, SAE, ACTPHAST, ECHORD++, etc.) or supported by a regional DIHs to participate in the Digital Innovation Hubs Annual Event free of charge, benefitting from the following premium package:
A free booth at the Exhibition area. Application form here. Travel costs will be reimbursed to the 15 selected exhibitors.
A matchmaking session with speed dating, round tables etc.  between DIHs and SMEs, between SMEs in different countries and between DIHs. Specific discussions will be organised around topics of interest to work in future European projects and around enabling technologies. SMEs and DIHs will also have the opportunity to present their organisations, activities or projects before going to a social dinner ('pitching corner').
A 100 minutes training session chaired by FundingBox Accelerator. The speakers will be well experienced professionals of Business sectors, with specific and proven expertise in entrepreneurship and mentoring.
Participation as speakers in the main conference for 6 beneficiary SMEs to discuss about their best practices and main challenges in developing their experiments and digital transformation experiences.
Information and Networking. Companies are invited to take part in the whole conference program and get updated with the forthcoming funding opportunities.
In order to win one of the 15 spots for SMEs and StartUps, please fill in the following form before October 19th 2018.
Register to the event here.